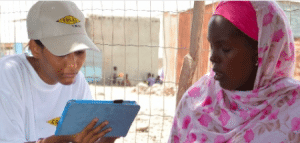 ELECTRONIC DATA CAPTURE(EDC) SOLUTIONS
Improving quality and shortening timelines
Capturing data using paper forms and then transcribing the results onto office computer is not only error prone it is extremely inefficient, and most organizations who want to migrate from page to screen–from PAPI to CAPI–do face the challenge of  not knowing what data capture software best meets their needs.
With our quality mobile data collection solution we ensure smooth transition  from surveys based on paper-and-pen interviewing (PAPI) to those based on computer-assisted personal interviewing (CAPI).
Realise the benefits of mobile data collection by choosing Exodus.
Save time –Analyse your results as soon as the data is transferred from the field. No delays
Data quality-quality controls and checks to eliminate routing problems within the questionnaire.
Accurate result – input is point and click via menus & multiple choice questions leaving no room for human error.
Rich data collection- automatic date and time stamping, photos, GPS coordinates of data collection points.
Real time data validation- researchers alerted when new information is available or action needs to be taken.
Data Security –Enforced password protection and  automatic data backups.
Enhance Accessibility- Data made available in the cloud.